As a result of the Coronavirus Pandemic, BNECC, along with all other clubs, were forced to suspend our Club Activity including our club runs. This means that, since 15th March 2020, we've had no official Club Runs. However, following the relaxation of Coronavirus restrictions on 29th March and 12th April, and new guidance from our governing body, British Cycling, we're pleased to announce that we can now resume our Club Runs in line with the restrictions in place for Organised Sport.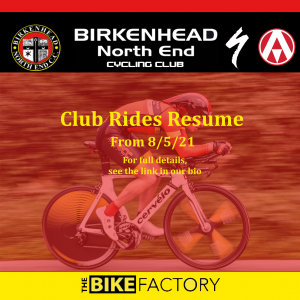 This means that we can now organise our official club rides once again, with Group Sizes up to 15 people outdoors (although, at the time of writing, the Rule of 6 will still apply at all times off the bike, such as at cafe stops). We'll now be resuming our full calendar of Club Rides, details of which can be found on our Club Runs page here. Group sizes will be decided on the day, based on total numbers and rider ability. Our group sizes will generally be no more than 8; but always less than 15. No pre-registration is required for our club rides, simply turn up on the day ready to ride.
If you have any questions, either about joining us for our rides, or about how we're resuming them, then please get in touch via our Contact Page.